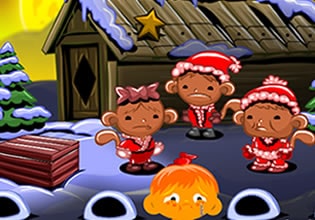 Monkey Go Happy – Stage 593
Once again a stress signal was coming from monkey planet there, but this time it's in the snowy areas of the place. At the moment the signals are pretty weak, but right-now it says that these could be coming from just a few monkeys which are experiencing some troubles concerning them mini monkeys. And of course monkey operatives HQ is always right.
An operative was immediately sent to the area and there were three monkeys there which were dressed as Santa. They were actually the nearby village's gift givers and they were preparing themselves for the new year celebration. But at the moment they cannot continue with that for as the operative expected, they were being tormented by these jumping mini monkeys everywhere. At the moment as the operative sees, there seems to be just a few of them but they cannot just let that be, for these mini-monkeys can multiply to infinite numbers in no time and wreak havoc in the area. The monkey operative must gather them all here now, will you help-out on this as well escape players so that these three monkeys can celebrate?
Monkey Go Happy – Stage 593 is a brand new point and click retrieval adventure game released by Pencil Kids. This game is a continuation of the previous one as its sequel, and is a part of the first game as the start of the series.
Other games by -
Walkthrough video for Monkey Go Happy – Stage 593