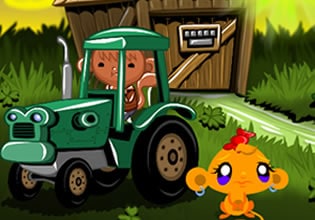 Monkey Go Happy – Stage 579
Another signal was coming from monkey planet there and this time it is in the farmlands where it's peaceful. Of course monkey operatives have detected these signals and that's why one was sent to the area to fix the problem. The problem was of course mini-monkeys, they are there in a farmland as well and are disrupting work there, not to mention multiplying in numbers quickly. Not to worry now, for a monkey operative is there, but she is going to need some extra help though, for this is outdoors and there are still quite a lot of places to hide here.
Escape players, will you be that help so that the problem here in the farm area with the mini-monkeys can be dealt with soon? Careful then, for the mini-monkeys are starting to think of ways on how to repel the operatives, and soon they might not be able to unfortunately finish the job here, so collecting them now in a short amount of time is crucial.
Monkey Go Happy – Stage 579 is the newest point and click retrieval outdoor escape game created by Pencil Kids. This game is a continuation of the previous one as its sequel, and is a part of the first game as the start of the series.
Other games by -
Walkthrough video for Monkey Go Happy – Stage 579