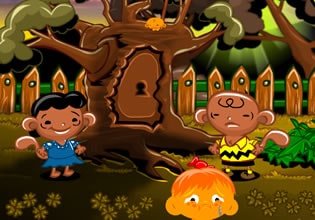 Monkey Go Happy – Stage 569
Another signal was coming from a neighborhood on monkey planet and it's so happens that an operative is currently there doing a job! But he shouldn't bother with this one, for HQ have sent another operative in this location which was in a backyard there in a house. It seems that the mini-monkeys here are starting to invade the planet slowly, that's why HQ must not stop on this operation until they are all quelled, for if they are left alone to flourish then the possibility of them invading the entire planet can be done in a short amount of time.
Escape players, the monkey operative here will do his job now and he will do the best he can. Will you help him here then so this task can be even more thorough? Give the operative a hand here then and do your best to search each and every one of them in the neighborhood. There are more hiding places here, so keep your eyes peeled.
Monkey Go Happy – Stage 569 is the newest point and click retrieval escape game created by Pencil Kids. This game is a continuation of the previous one as its sequel, and is a part of the first game as the start of the series.
Other games by -
Walkthrough video for Monkey Go Happy – Stage 569