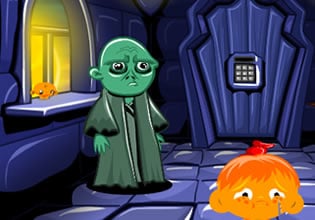 Monkey Go Happy – Stage 557
The monkey operatives detected a very clear stress level signal from a place on earth which was quite dark. The stress levels are from beings who are currently in a bind with the creatures called mini monkeys! The monkey operatives have been on the chase for them across the universe and through time and space. Why is that so? Well they can multiply from one to a thousand in a short amount of time and they are quite menacing. They have the potential to destroy a landmass too, even a planet! Well if it wasn't for that accident which released them to different places then this problem wouldn't have escalated, now an operative is at the location and he needs help.
The place is quite scary and even though the monkey operative is resilient, it seems that this one is afraid of the spooks which were living in the place. Escape players, there are humans in the place which was actually a castle and there are spooks as well! Both are stressing thanks to the mini monkeys and no wonder the sensors detected it very well. Will you be able to help here before these little menacing creatures multiply to significant numbers?
Monkey Go Happy – Stage 557 is the newest point and click retrieval escape game created by Pencil Kids. This game is a continuation of the previous one as its sequel, and is a part of the first game as the start of the series.
Other games by -
Walkthrough video for Monkey Go Happy – Stage 557