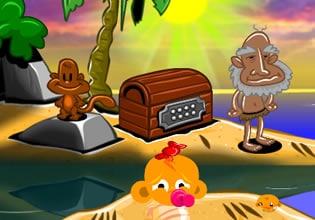 Monkey Go Happy – Stage 549
A signal was coming from an island inhabited by a hermit, or hermits for they are getting more signals there due to their stresses which is of course coming from a stimulant. And they know for a fact that the stimulant is definitely mini-monkeys. The island is pretty small and they won't have a hard-time in collecting those mini-monkeys there, but the downside is there are a lot of crevices everywhere which they can hide and as they know, missing one can still be detrimental, for one specimen can multiply indefinitely given time and the splits can also multiply themselves!
The monkey operatives pinpointed the signals and sent their operative in the remote location, now its job begins and even though the locals there are wary of the bigger monkey which are the operative, it needs to continue on this task for those mini-monkeys are menacing and rambunctious, that's why they cannot be allowed to multiply to greater numbers. Escape players, want to help here once again and see if you can at least ease the operative's work through your skills and logic?
Monkey Go Happy – Stage 549 is the newest point and click retrieval escape game created by Pencil Kids. This game is a continuation of the previous one as its sequel, and is a part of the first game as the start of the series.
Other games by -
Walkthrough video for Monkey Go Happy – Stage 549