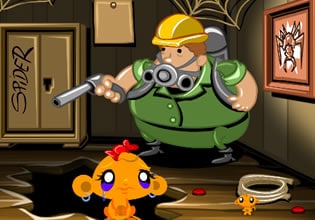 Monkey Go Happy – Stage 539
One stress level was detected from a house in a neighborhood on Earth. It was kind of big but they can see it's coming from just one person, wonder how troublesome for him or her are the mini monkeys there? For surely that is the cause of his stresses. And so, a monkey operative have been sent there and she quickly saw what was up.
The stresses was coming from a big guy! No wonder the stress was big, but he looked like an exterminator and he seems to be working on the spider infestation there in the place. But then as the operative have seen, the mini monkeys got involved and now they are there just moving around the place and being a menace! Okay, this is now a job to do for the day, and the monkey operative will definitely respond to this. Escape players, the operative is going to need a little help though for there seems to be a lot in this place to retrieve now, and plus she doesn't like spiders so that will only slow her pace here. See if you can help out?
Monkey Go Happy – Stage 539 is the newest point and click retrieval escape game created by Pencil Kids. This game is a continuation of the previous one as its sequel, and is a part of the first game as the start of the series.
Other games by -
Walkthrough video for Monkey Go Happy – Stage 539