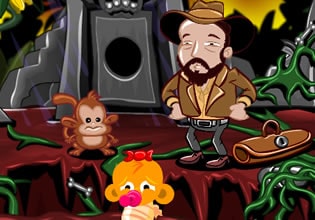 Monkey Go Happy – Stage 537
What stress is coming from a jungle here on Earth, there is a guy there who imitated the missions of the Indiana Jones films and it's not totally in-vain though, for he is making progress in finding lost temples there and even treasures! But this time though he is met with extreme stress for his adventure run against a storm! But that's not the reason why a monkey operative was sent there, it's actually about the mini-monkeys that are also terrorizing him there.
The mini-monkeys are undeterred by the torrential rain here and they are still going about messing with the adventurer and up to now, he cannot proceed for factors are not allowing him to. Well at least the monkey operative can relieve his stress concerning the mini-monkeys here, and because it is a little-bit difficult, they are going to need extra help then. Escape players, will you be that extra help in collecting these mini-monkeys in this remote and stormy wilderness?
Monkey Go Happy – Stage 537 is a brand new point and click wilderness retrieval adventure escape game released by Pencil Kids. This game is a continuation of the previous one as its sequel, and is a part of the first game as the start of the series.
Other games by -
Walkthrough video for Monkey Go Happy – Stage 537