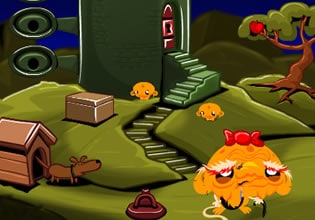 Monkey Go Happy – Stage 535
In another planet, there is another being who is having some problem with them mini-monkeys and it's really stopping him from doing anything. Luckily though even when the planet is located in the far reaches of the universe, monkey operatives were still able to detect the stress-levels coming from him and as the only free operative, the old monkey operative was sent there! Even though he is old, one should never underestimate him for he is definitely good at what he does, but he is going to need just a little bit of help here.
Escape players, the being who was stressing because of these mini-monkeys looks like he is fixing-up a launch-pad and there was a rocket on it too. Okay, the more it is important to help him there now or his launch there could fail and it might endanger his life. Will you help the old monkey operative here in collecting those scattered mini-monkeys all over the launch pad before they totally invade the place or even the planet?
Monkey Go Happy – Stage 535 is the newest point and click retrieval escape game created by Pencil Kids. This game is a continuation of the previous one as its sequel, and is a part of the first game as the start of the series.
Other games by -
Walkthrough video for Monkey Go Happy – Stage 535