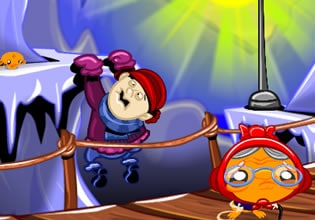 Monkey Go Happy – Stage 495
Monkey operatives HQ have detected levels again and this time it's in a place not really populated. HQ returns to earth at the present time for something is going-on there in the Himalayas! There were some men there hiking and on the middle of their journey, they encountered them mini-monkeys and those little things were enough to get them all in-trouble! One man is hanging by a gorge even and he can't get back up for those mini-monkeys are not allowing him! What a situation they have there, and of course HQ will respond to this before things gets even more serious.
Escape players, them mini-monkeys are hardy even in the cold, but the operative too who have been sent there, but he is still going to need some help for there are a lot of those mini-monkeys scattered around and not only they are menacing, they can multiply really quick. Worst case scenario is when the entire mountain is totally overrun by them, so will you help out?
Monkey Go Happy – Stage 495 is the newest point and click retrieval escape game created by Pencil Kids. This game is a continuation of the previous one as its sequel, and is a part of the first game as the start of the series.
Other games by -
Walkthrough video for Monkey Go Happy – Stage 495