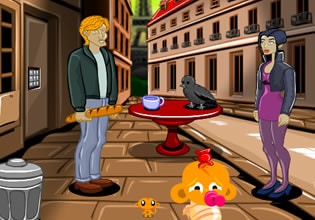 Monkey Go Happy – Stage 473
This time stress levels from mini-monkeys infestation have been detected and it's coming from Paris! That's another populated place and this time the mini-monkeys were able to do something, for when the monkey operative arrived in the area, he saw that the humans were not responsive and it's like their paralyzed where they are! The mini-monkeys are starting to grow in numbers and this happening here which the mini-monkeys highly conjured is still a mystery, but the operative must do his job as quickly as possible for who knows what will happen next!
Escape players, will you help the monkey operative here collect the mini-monkeys which are now infesting Paris before they multiply out of control and potentially destroy the city? Be ready then and check every nook and cranny there for each one missed can be a recurring problem, that's because one specimen can multiply to thousands in mere weeks. Make haste and use your logic for this.
Monkey Go Happy – Stade 473 is the newest point and click retrieval escape game created by Pencil Kids. This game is a continuation of the previous one as its sequel, and is a part of the first one as the start of the series in this sight.