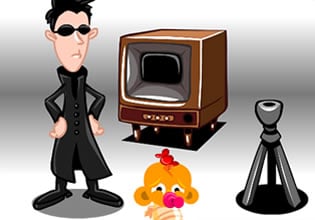 Monkey Go Happy – Stage 491
Even in the matrix people there needed help! Neo and the others are sending some stress levels from the said virtual reality for even the mini-monkeys have reached there! Neo is stressing with the little things for just like the virus, he is having a hard-time eliminating the little orange things and they just keep multiplying non-stop! They clearly needed help, and that's why the monkey operatives have answered to that for basically it is their job to gather those small menaces.
The monkey operatives have now seen the damage, it was still minor for Neo had been trying to mitigate the problem caused by them, soon those things will multiply to uncontrollable numbers and that is one thing HQ doesn't want to happen, even if the place is the matrix. Escape players, the monkey operatives will now began gathering those mini monkeys, want to help out so that the problem can be solved quickly?
Monkey Go Happy – Stage 491 is a brand new point and click retrieval adventure escape game released by Pencil Kids. This game is a continuation of the previous one as its sequel, and is a part of the first game as the start of the series in this site.
Other games by -
Walkthrough video for Monkey Go Happy – Stage 491