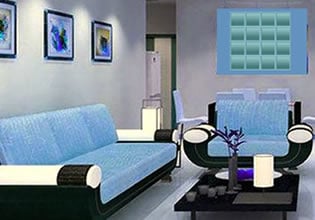 Modern Aqua Room Escape
The aqua house had been built through modern means, it was a luxurious house and the interior gives the resident the feel that the rooms are underwater, that's all because of the wallpapers which looked very real, the LED screens, and the real aquariums in there. It was a pricey place to stay though, but Nolan and his family will really have a good time there. That day, Nolan was only looking around for his plans to visit there with his family will be scheduled next week, he would just like to see if everything fits with his preferences. Things were going well as he checks the place, it was indeed what he had expected and it was even more! But a problem happened there though and it began when the staff who was with him went outside for a bit.
Nolan could no longer escape the house and no matter how he called for the staff, it seems that he couldn't hear him! What was up with the doors here anyways? Did the staff lock it when he went outside? Why though? Maybe he didn't and this could be an accident? A lot of questions are popping on Nolan's head right-now, but still he needs to escape from there for he knows this can get worst and really he doesn't want that at all. Escape players, you will now be playing with Nolan here, will you be able to escape the rooms without damaging anything?
Modern Aqua Room Escape is a brand new point and click indoor escape game from Games 2 Rule.
Other games by -
Walkthrough video for Modern Aqua Room Escape