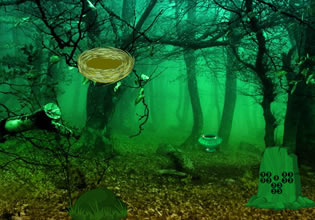 Mistful Forest Escape
The forest here which was located in the mountains is not a place that is safe. Well, most wildernesses aren't safe but this one is different however, for it's even more dangerous there thanks to the uneven terrain and the mist that constantly engulfs the place and it can really disorient people and give them a ton of blind-spots also. Well, Jeffrey is there at the moment for an adventure, but as he goes deeper into it, it seems that the forest is starting to get him, and it's not getting better.
Jeffrey is not so happy with his adventure here anymore, but a part of him was a little excited because of the situation, which was him getting lost there! Still, he doesn't want his problem to get worst in the place, so will you help him escape players on this escape of his from the forest?
Mistful Forest Escape is the newest point-and-click wilderness escape game created by Games 2 Rule.
Other games by -
Walkthrough video for Mistful Forest Escape