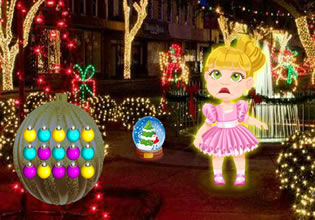 Missing Baby In Christmas Street
Make the rescue here in the cold outdoors a success for a life is at stake on this! Missing Baby In Christmas Street is the newest point and click rescue escape game created by Games 2 Rule.
Christmas was for tonight and every mother in the neighborhood will be busy preparing some stuff for their Christmas dinner. One particular mother was so busy, that she had brought her toddler around wherever she goes for nobody would take-care of her and because it was the holidays, most teenagers are with their own businesses and wouldn't agree on a babysitting service at that time. The mother had already taken-care a lot of stuff throughout the day with her kid, that is quite an achievement, but on the last part however where she was going to purchase a cake, a problem struck.
The mother had lost her daughter and it's definitely not good now for the snow was thick and it isn't easy to tread through it! The kid was screaming for her mother but luckily, somebody heard her and that's you escape players. You also could not spot her mother anywhere and you bet she is really panicking now looking for her, will you help them both by guiding the little girl back to her mother before the Christmas rush gets worst? Be quick then for it's pretty cold outside.
Other games by -
Walkthrough video for Missing Baby In Christmas Street