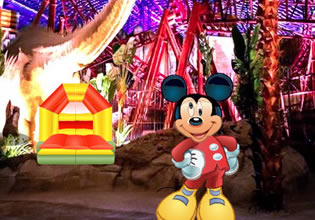 Mickey Mouse Theme Park Escape
To celebrate their graduation day, Michelle and her friends went to the happiest lands of all the lands, it's a place where Mickey mouse as well as his friends lives. As Michelle and her friends roams around the awesome theme park, there seems to be a new thing in the place, and that is to help Mickey mouse who was having some trouble navigating there, one must get him from one place to another and then get a special prize!
Michelle was already hyped with the place so she accepted the challenge with Mickey. Escape players, little did she know this is going to be a little tough, so will you help Michelle there with this so she can win that prize? Your skills and logic will be needed here then obviously, so be ready to present that to win!
Mickey Mouse Theme Park Escape is a brand new point-and-click happy place escape game from Big Escape Games.
Other games by -
Walkthrough video for Mickey Mouse Theme Park Escape