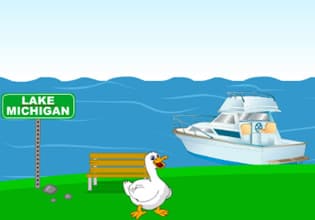 Michigan 2022
Vic is starting to doze in his bungalow beside lake Michigan there for the weather was calm and sunny, he had planned to leave a while ago for he was just going to take the family there to the area for their vacation, and then he'll return home for he really has to fix the various damages back at the house while everyone is away. His brother-in-law is just going to bring them back home tomorrow so he needs to leave so he can begin his repairs which he doesn't even know when it will all be done.
Vic was starting to dream on his doze there, he just hopes he doesn't do that while he drives and he has a long way to go. But first he needs to gather some things there  and leave some too so he can then go. So escape players, want to help Vic here taking care of some things in the place? Help him gather things that he needs then especially stuff that can entertain him on the long drive for he really has a long way to go.
Come and give this a go everyone! Michigan 2022 is a new outdoors area escape game developed by Selfdefiant.
Other games by -
Walkthrough video for Michigan 2022