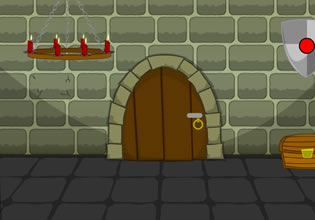 Medieval Castle Escape (Selfdefiant)
As Gino was sleeping, he felt a very strange thing and that made him wake-up due to the discomfort, but when he tried to find-out why he wasn't comfortable, he quickly got the answer for he is now inside the medieval castle which he was guarding! Gino works as a night-shift guard there and he had already seen a lot through the years he was working there, but he wasn't prepared for what happened one night however and that is him waking-up inside the castle!
The castle is locked and only Gino can enter there if he decides to use his keys, but he never remembered entering the old structure and he clearly recalls that he had slept at the guard-house which was a definite no for his job. Gino tried to remember but still nothing, he knows he hadn't set-foot in the castle that particular shift of his and it only got worst, for when he tried the doors to get himself out, he couldn't for it seems to be locked! Did he just teleport inside or something? Looks like Gino is experiencing something very weird here and he thought to himself then he needs to get out of there now! Escape players, Gino is getting a really bad vibe from his situation here, will you be able to get him out by placing yourself on his situation?
Medieval Castle Escape is another new point and click ancient place escape game made by Selfdefiant.
Other games by -
Walkthrough video for Medieval Castle Escape (Selfdefiant)