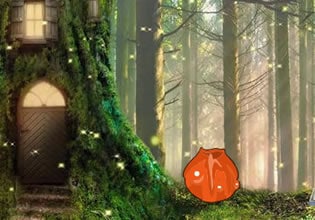 Magical Genie Escape
There is a genie here in the forest and Sylvester knows that, but he lives him alone for this being is more of like a trickster than a wish-granter. But that day as he will be going there again in the said wilderness finding all sorts of things which he needs to survive, he will come across this genie again, but this time this being will be needing some help!
Sylvester knows that this genie lives in a metallic lamp and it looks ancient, but now when he found him he is in this glass bottle and this thing definitely looked off to him. Upon seeing the genie, the magical being was pleading to Sylvester then to free him for this is not his home and he is trapped! Sylvester knows that obviously, but he is thinking here if he would help him or not for he doesn't want to fall for that guy's tricks again. Eventually, Sylvester agreed but he is getting his guard up for anything. Escape players, want to help Sylvester so he can get this done while being careful with his approaches?
Magical Genie Escape is the newest point and click wilderness rescue escape game from Games 2 Rule.
Other games by -
Walkthrough video for Magical Genie Escape