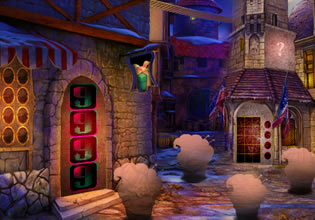 Lovely Girl Escape
There was this beautiful girl in the village and her name was Anna. A lot of the men in the village courted this elegant woman but none were able to succeed, well except for John here for he is somehow doing something that is wooing Anna and it's working, they are probably meant for each other, but John is doing his best to get her still for he wants to get her good side and gain her trust. But that day he might have an extra point for that, for as he arrives at Anna's place, he found Anna and she needs help there!
John found Anna trapped in her place and she couldn't get herself out! Immediately John acted on this for he absolutely needs to. Escape players, John needs a little assistance here so he can get this rescue done no problem. Want to help him then so he can safely get Anna out?
Lovely Girl Escape is another new point-and-click house rescue escape game made by Games 4 King.
Other games by -
Walkthrough video for Lovely Girl Escape