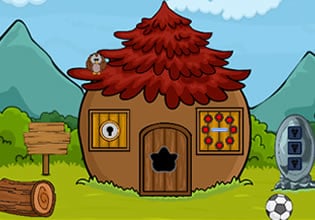 Llama Family Escape
Alfred has a lot of different houses in the area where he lives which was in the wilderness, some were once being occupied by his relatives but they have left however in search of greener pastures. Some of the old houses there are being used as stables for the animals, and one was for his llamas which he is just only starting to breed and it seems to be successful, for he now has a few ones and they are a family. That day however, he did not find his llamas around the area, their house is mostly open and they can get out, but then when he checks the place he realized that they are actually trapped!
Somehow the door in the house where the llamas stays is locked! How though? Alfred asked himself. For they don't have thumbs to manipulate the locks but then, there they are and trapped. Escape players, Alfred here is going to need some help opening the door there, but he doesn't know where those keys of his is for the door hadn't been locked for ages. Will you help him out so that his animals can get out of and do their daily processes?
Llama Family Escape is a brand new point and click animal rescue escape game released by Games 2 Jolly.
Other games by -
Walkthrough video for Llama Family Escape