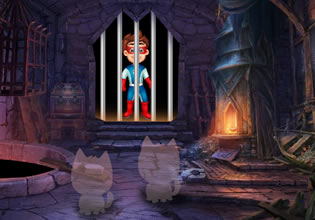 Little Strong Boy Escape
The village here is home to fascinating people, but one is moreover than the rest though and he is just a boy. This boy has the strength of countless men and he is quite a superhero in the place! Nobody knows who this kid is but little did they know he is just one of the kids living in this place. That day though, something strange happened and the first one to find-out about this was Mac.
Mac found the strong boy as he is called, trapped inside some cell in a house! Mac was definitely bombarded by questions then, like why was there a cell here in a house here? And was the boy not able to use his powers to escape? It's all very confusing, but Mac will still help though for he owes that to the kid who is their hero. Escape players, will you help Mac here then so he can get this rescue done?
Little Strong Boy Escape is the newest point-and-click rescue escape game created by Games 4 King.
Other games by -
Walkthrough video for Little Strong Boy Escape