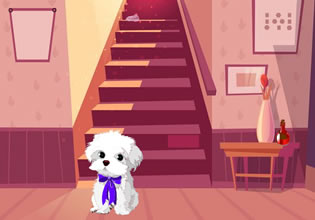 Little Girl Puppy Escape
Your neighbor Alexis needs help that day, for her puppy just entered the house there and because there was nobody home, she couldn't get him out! Well, lucky for Alexis though you were in-charge of this said house for the week as you were paid to watch over it, and of course you have the key. You entered the house and immediately you found the cute little pup in a room there, this was easy, but that's until you attempted to get out of the place though, for you couldn't anymore!
Escape players, the doors in the house are now mysteriously locked and you have no idea what is happening! Your neighbor Alexis couldn't open the door on her side as well and you thought then that this place could have a mind of its own! Nevertheless whatever is happening here, you need to get yourself and the dog out, will you be able to do so then and safely for you as well as the pup?
Little Girl Puppy Escape is a brand new point-and-click pet rescue escape game from Big Escape Games.
Other games by -
Walkthrough video for Little Girl Puppy Escape