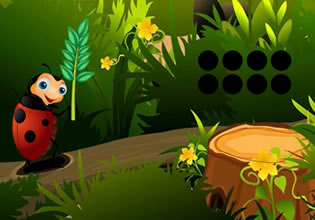 Ladybug Jungle Escape
Pepin is in the jungle at the moment, specifically in a patch of the wilderness which was being governed by a very sentient ladybug which is a magical creature. Pepin was okay going through the place at first like it has always been, but then when he started to see the minions of the ladybug which slightly looks like him, he started to become lost!
Pepin is now confused for he thought, was the ladybug observing him through the eyes of his minions? But why and why now? He had been passing through the land for years but this only happened to him once. Pepin is not getting a good feeling about this, that's why he needs to find his way out of there if he wants to be safe. Escape players, come help Pepin get home here before something else happens which he wouldn't like.
Ladybug Jungle Escape is the newest point-and-click wilderness escape game from Games 2 Rule.
Other games by -
Walkthrough video for Ladybug Jungle Escape