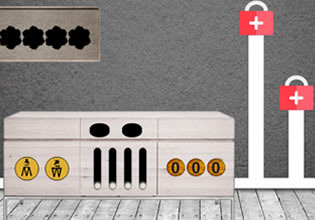 Lady Doctor Gwen Escape
Dr. Gwen finally has time to take a look at the people in this neighborhood, as a person who have been waiting, it just gives you hope that Dr. Gwen was able to visit one of your friends who lives near you and that really gives the hope that she might visit you next. At the moment, she is in Maggie's place and because you just couldn't wait and you have to see her, you went to her house and thankfully you did, for something happened there and Dr. Gwen herself is going to need some help!
You arrived in Maggie's place and the situation there was the doctor got trapped in a room there and even Maggie couldn't get her out! This is not good, as a person who sees Dr. Gwen as kind and gentle, this was quite unthinkable for you. Wonder how this happened anyways? Well, however it was still you are going to help Maggie here help the doctor. Escape players, want to help Dr. Gwen who is trapped in your friend Maggie's place?
Lady Doctor Gwen Escape is a brand new point-and-click indoor rescue escape game released by 8B Games.
Other games by -
Walkthrough video for Lady Doctor Gwen Escape