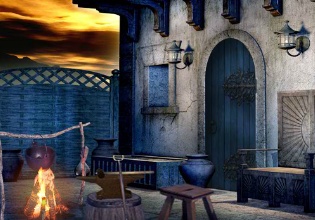 Knight Palace Escape
You were peacefully training to be the greatest knight in the Knight Palace when your girlfriend called you. She said that she is in trouble and she badly needs your help. However, you can't just go out from the Knight Palace. You have to stay here until the program ends. But that program is not your priority right now. You girl needs you and you need to serve her more than the king. But unfortunately, the security in the palace is so tight. So have to use your logic to find a way to escape from the palace. It's night time and it's knight time! This is the perfect time to escape so you have to be quick and find items that you can use to unlock the door in the palace. The challenge is, you have to escape before the knight leader catches you.
Your knight friends don't want to be involved but they are kind enough to leave some objects and clues that can help you to escape. Play Knight Palace Escape and be a knight in shining armor! This brand new point n' click room escape game is made by First Escape Games. Good luck and have fun!