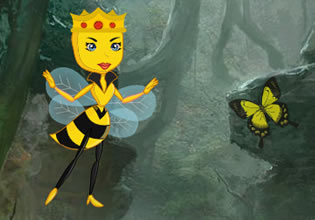 King Honeybee Land Escape
The forest here is being governed by the king honeybee, it is a magical being and even though it doesn't have a normal hive, all of the land is its hive and everything there is under his control. As a person who comes there at times, Paul knows it's going to be hard for it is always is. The king honeybee doesn't let anybody enter the place and he has trust issues, still though he lets Paul in for he somehow trusts him even just a bit, but he still has his eyes on him. Little did Paul know he will be experiencing a problem there and it's going to be an obstacle.
Escape players, you will now be playing as Paul here and you are now experiencing his problem. Will you be able to solve it? Go ahead then for if you can, then you might pass the test of the king honeybee for this has the potential to be so.
King Honeybee Land Escape is a brand new point-and-click wilderness escape game from WoW Escape.
Other games by -
Walkthrough video for King Honeybee Land Escape