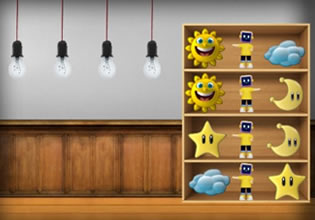 Kids Room Escape 81
Eduardo can't believe he got swindled by the kids in the escape house there a few times and because of that he still haven't escaped! Eduardo is really seeing what he is doing wrong there, but he doesn't understand why he keeps falling for it. He needs more help there so he can escape, and escape players would you like to help him once more here?
The challenges of the kids there might have gotten extra difficult, but it isn't unsolvable though and this time you will be helping Eduardo here with the best of your skills and logic. Will you be able to see this through and free Eduardo?
Kids Room Escape 81 is a brand new point-and-click indoor escape game released by Amgel Escape. This game is a continuation of the previous one as its sequel, and is a part of the first game as the start of the series.
Other games by -
Walkthrough video for Kids Room Escape 81