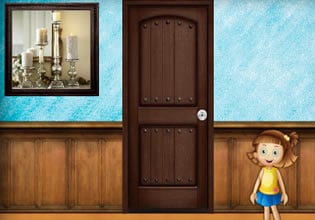 Kids Room Escape 57
And Terry was able to escape thanks to you escape players! Indeed the kids in the house there can either help you or mislead you for the escape, it is up to you if you would believe them or not. In the end Terry managed and now it's time for another challenge in this house through the eyes of the next challenger who was Carrie.
Carrie is ready for this escape house now and because she doesn't know yet what she'll come across there for she had never been to an escape house ever, she needs to be extra careful. The inside of the house have now been reshuffled and the challenges there as well as the obstacles have been refreshed. In other words, new puzzles and clues to find are now ready in there and that will give a unique challenge than from Terry. Escape players, you will now be in the shoes of Carrie here and once again the helpers in the place are kids, they could either help you or not in this escape. Will you be able to escape once again from this house or so help Carrie?
Kids Room Escape 57 is a brand new point and click indoor escape game released by Amgel Escape. This game is a continuation of the previous one as its sequel, and is a part of the first game as the start of the series.
Other games by -
Walkthrough video for Kids Room Escape 57