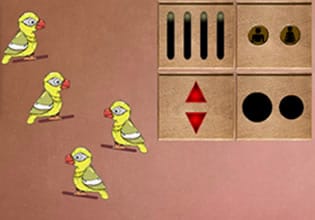 Kid Leo Pizza Escape
There was this boy in the neighborhood who was really good at cooking. As a chef himself, Voltaire is definitely in awe of his achievements, that's why he made this kid his apprentice for his skills are astounding. Maybe he can elevate the kid to the profession even more or maybe he can learn a thing or two from him as well. And so that day, Voltaire was going to the kid's house just to taste the new recipe of pizza he made. Voltaire was absolutely looking forward to it, but little did he know he will be doing a little rescue there.
Voltaire arrives in the house and the first thing he heard was this cry for help! He quickly knew that the sound was coming from the kid who was Leo the great chef boy in the town and his apprentice, those labels and thoughts alone brought him to responsibility and he of course must rescue him. Escape players, Voltaire found his apprentice trapped in a room there and he has no idea what exactly happened, where was his parents anyways? Well now, will you help him help the kid so he can be set free?
Kid Leo Pizza Escape is a brand new point and click indoor rescue escape game from 8b Games.
Other games by -
Walkthrough video for Kid Leo Pizza Escape