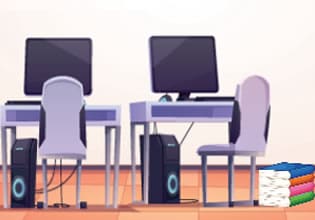 Jose School Room Escape
The school is starting to open for it's morning and a school day, Queenie was the first to be there for of course she is a teacher there. She is now waiting for her students to come and as usual, Jose comes in early which he never misses everyday. But as he was about to enter the room though, a problem was currently plaguing the door there and Queenie cannot open it!
Jose cannot enter the room and Queenie cannot get out of the room, those are the problems here and what's causing that is the door which was not opening no matter how Queenie tried. Okay, it seems Jose cannot open it on his side even though he was instructed by Queenie from her side in trying to open it in many ways than one. She needs to find better solutions here then and escape players, would you like to help her with that? Go ahead then, find a way to open the door there and so the children can access the classroom. Quickly now for class time will begin soon.
Jose School Room Escape is a brand new point and click room escape game released by Games 2 Escape.
Other games by -
Walkthrough video for Jose School Room Escape