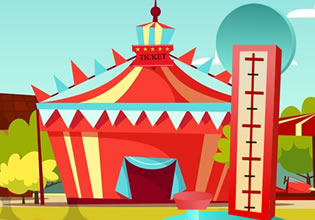 Jolly Amusement Park Escape
Cedric was in the amusement park here today, it is a vast place and he likes it for there are a lot of fun activities to do there. All day, Cedric did everything he wanted to do there and it was fun, now he needs to be in the entrance of the place and to get there he needs to take the fun train for it is far. But he'll need to wait for that though, probably help too for something was happening with the train.
The train got busted and the staff are now trying to fix it. As a mechanic, maybe Cedric can help? Cedric definitely stepped forward on this, for he also wanted to be on the train so he can get back. Escape players, would you like to help Cedric here with this? Help him find things that can be of great help to fix the train faster.
Jolly Amusement Park Escape is the newest point-and-click item retrieval rescue game created by WoW Escape.
Other games by -
Walkthrough video for Jolly Amusement Park Escape