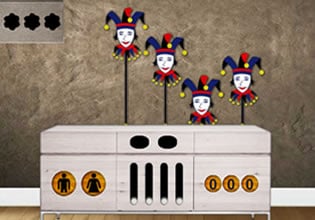 Joker Photo Escape
Larry went to his friend's house that day because he would like to see this thing he wanted to show him. He said it was this joker's photo and he is convinced that there is something in it that needs to be solved so its secrets can be uncovered. But as Larry arrived at the place, there was a problem and he was toiling with a room there. And as Larry saw it, the situation is the door was hard to open.
Larry asked his friend then what was he doing and where this photo he was supposed to show him was? Well, that's the thing though, for this photo is inside this room he was trying to get into and he is having a problem with it, for the door's key was missing and the thing was locked. Okay, if that photo is behind that door then Larry is going to help here for that's the reason why he came here really. Escape players, you will be playing as Larry here now, and finding that key to the door must be found so that the photo can be retrieved, will you all be able to solve this problem here?
Joker Photo Escape is the newest point and click item retrieval game created by 8b Games.
Other games by -
Walkthrough video for Joker Photo Escape