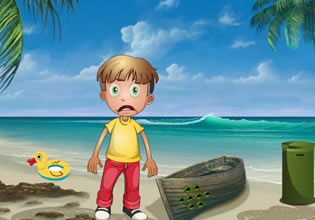 John Friend Escape
John and Ronnie went on to find the perfect venue here for the next week they and a bunch of friends will be reuniting and the best place for that wins. At the moment, the two friends are in this beautiful beach which they haven't been to before. This might be a good place to be, the two friends split-up to cover more ground and just scanned everything. John had gotten what he needed from the place though and he is a go with it. But as he tried to find Ronnie however, it seems that he is nowhere to be found.
It had gone for a while now and Ronnie was just nowhere. John can't just abandon his friend here, he must find him so they can leave together. Well, at least he has to do it here in this beach wonderland, that's why John is not totally stressed here, but he does need some help. Escape players, John needs help in finding his friend Ronnie whom he doesn't know where now. Would you like to assist here so that they can finally leave?
John Friend Escape is another new point-and-click beach escape game made by WoW Escape.
Other games by -
Walkthrough video for John Friend Escape