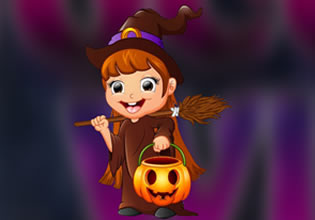 Jocose Witch Escape
This town here is being protected by a rather very young witch, but one should be very careful of her though, for even though she is young she is still quite fascinatingly skillful and powerful. But that day however, something happened to her and it's a rather normal problem for the likes of her, and that's why it's weird for why couldn't she solve it on her own? Lucky for her one of the townsfolk found-out she was in trouble, now she can be helped.
The person who found her was Kean and he was just roaming around the place that day. Escape players, Kean is going to help their witch here but he is having a problem with that, for he can't get her out with the skills and the objects he has. Okay then, will you help Kean here free the young witch? Hopefully your skills will be enough for this rescue.
Jocose Witch Escape is the newest point-and-click rescue escape game from Games 4 King.
Other games by -
Walkthrough video for Jocose Witch Escape