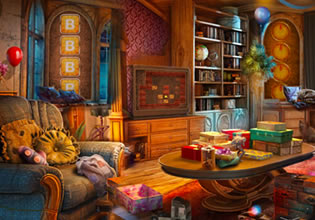 Jocose Little Boy Escape
The village have this boy who really stands out, that's because his aura and attitude was really bright and friendly. As his friend, Johnny can really see that and his friend there is really a friend to all, that's why some call him the jocose boy. That day, Johnny was going to his friend for he has something for him and also to just hang-out for the day. But there was a problem though, for when Johnny was taking the journey to his friend's home, he found him trapped in a house he passed by!
Johnny was quite confused then, what was he doing in there? Well, he said he got trapped after checking something out and he really needs help there now. Okay, Johnny is going to try and get him out, but he is also going to need some help for he somewhat strongly thinks he can't do this. Escape players, want to help Johnny here with this then so he can free his friend safely?
Jocose Little Boy Escape is a brand new point-and-click rescue escape game released by Games 4 King.
Other games by -
Walkthrough video for Jocose Little Boy Escape