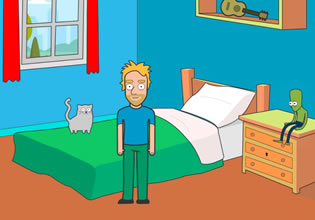 It Can Happen: Visitors
Samson woke-up and found some really strange creatures in his house. He really almost didn't believe this was reality, for he absolutely didn't know the identities of the creatures he was seeing, as-in what they were for they clearly weren't human! Samson went-out of his house to see what is really going-on, but as he did that his confusion there is only going to get worst.
Samson saw more of these creatures which were green in color and he is starting to think these guys are aliens! They might be and escape players, it seems he is going to need some help here, will you be able to assist so that all of this weird happenings shall be resolved? Be the key to this then.
It Can Happen: Visitors is another new point-and-click retrieval escape game made by Esklavos.
Other games by -
Walkthrough video for It Can Happen: Visitors