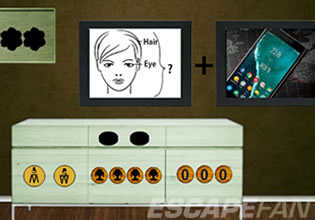 Irish Girl Escape (8b Games)
Lira would like you her friend to meet her old friend who was Irish. You never thought Lira had a friend from another country, well you just knew she was an exchange student before in Ireland and she made friends there of course before she moved back to her home country. You wish to meet this old friend of Lira's, so you went to her house for it's just nearby. But as you arrived there, something happened as it seems for Lira has an uneasy look on her.
Lira was trying to get her friend out of the room for her friend there is trapped! You were a bit mystified of this, for you never expected to come across something like this when you get there. Okay then, you are going to help this Irish girl who is a friend of Lira's. Escape players, a friend of your friend can become your friend and it should be, want to help Lira here then so that her friend here can be freed?
Irish Girl Escape is the newest point-and-click indoor rescue escape game from 8b Games.
Other games by -
Walkthrough video for Irish Girl Escape (8b Games)