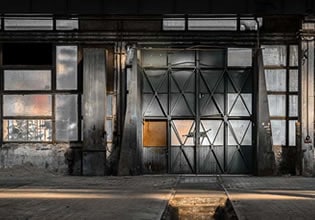 Industrial Facility Escape
The facility here was once used efficiently for all purposes concerning metal works and recycling, but national funding went down for it gradually and eventually the place was closed down, that was years ago and what's left of the structure is a skeleton of its former self. The town had been quiet since and as a resident there, Junior knows that for he had lived through it. Well at least he has the facility as his playground, he and his friends would go there occasionally just to hangout. But that day though he came alone for he would like to have some time for himself.
Maybe he can venture further here in this facility for interesting discoveries? Junior said to himself. And so he did without the knowledge that this adventure of his will be turning into a misadventure, for he will get lost and even trapped in there! Junior didn't have anything with him at that moment like a torch or a crowbar or something, so when he got lost in there because of his curiosity, he has nothing and he is pretty scared now! Well he has you escape players at least, want to help Junior here then so he'll be able to escape and don't get himself into more trouble in this dark and forgotten place?
Industrial Facility Escape is another new point and click old complex escape game made by 365 Escape.
Other games by -
Walkthrough video for Industrial Facility Escape