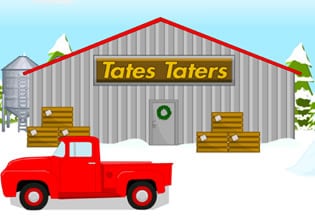 Idaho 2022
Marlon wakes-up and found himself in a cold and snowy place, it kind of reminds him of the time he went to some parts of the polar regions a few years ago. After a minute he came to and realized he is in his rest house in Idaho located somewhere near a small town. He expected to be in a warmer climate like in his rest house in Florida or California, but then he remembered he decided to not leave even though the snow had already fallen a few days ago, he wished he had.
Marlon decided to leave then later in the day so he packed his things to his truck and got himself ready for the long drive ahead, all for just warmth from the cold. But as he got ready to leave though it seems that he is missing an item, and that is his all important keys to his truck! Marlon really can't remember where he put those keys of his, but he needs to find them or he'll never leave from there. Escape players, come and help Marlon here find something which was important. Will you be able to so he can then leave?
Idaho 2022 is a brand new point and click item retrieval snowy area escape game released by Selfdefiant.
Other games by -
Walkthrough video for Idaho 2022