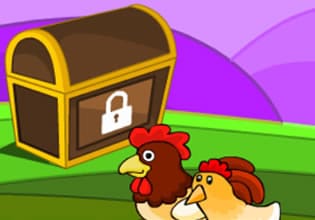 Hen Family Rescue 2
Webby managed to rescue his wife hen and now it is on to the next ones which were his children, that's all thanks to your help escape players. Now at the moment, the pair is in the valley for it is where some of the clues had brought them, Those were not wrong though for they found the first of their children and it was stuck in a cage like Webby's wife! Somebody is doing this here and still their motives are unclear, but a rescue is not forbidden however so it must be done now.
Escape players, Webby and his hen will have to do the rescue now so they can move on to the next rescue soon. But even though they are two of them now, they still don't have thumbs and superior problem-solving skills. That's why they need you once again here now for the rescue of their chick. Will you join in once again and see if you can free the chick from that cage? Solve that thing by finding clues, gather items, and manipulating them altogether for a quick as well as a successful rescue.
Hen Family Rescue 2 is another new point and click rescue escape game made by 8b Games and Games 2 Mad. This game is a continuation of the first one as its sequel.