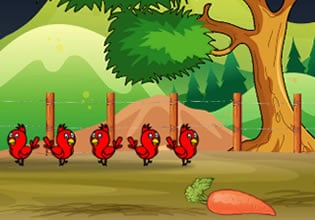 Hen Escape From Cage
The barn is getting old now and major repairs must be dealt to it soon or this thing will go one day together with all the chickens inside. But because the main problem that is blocking the owner who was Wilson to fix the place was now out of the way, he can do those repairs finally and this will definitely take a long time. Wilson's main problem was the chickens themselves, so he built a makeshift temporary barn to move all of the chickens first so he can then take care of the main barn's repairs. But then another problem came to be though, for one of his hens which was quite important to him got stuck in the transport cage!
Wilson could not open it for he couldn't find his keys to that box, he needs to find it now so he can free his hen and so he can then move on with his repairs, for the sooner he start the sooner he'll finish. Escape players, will you help Wilson on the rescue here for his trapped chicken? Find that missing key now and quickly before the day ends.
Hen Escape From Cage is the newest point and click animal rescue escape game from Games 2 Jolly.
Walkthrough video for Hen Escape From Cage
SIMILAR ESCAPE GAMES