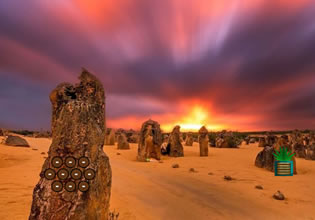 Help To The Kangaroo
Curtis is in the desert at the moment for he is spotting wildlife in the hottest and driest part of the country here. He was heading to a usual spot for the moment for he haven't finished his research on this said area he was approaching to. But as he passed by this point however, he saw a big boulder and carved into it was a cage! This was really weird and Curtis haven't seen such a thing before. He was even more mystified though when he looked inside this cage.
Curtis saw a kangaroo with its joey in her pouch in there! This definitely caught Curtis off-guard, well who would be on-guard on something like this? Curtis didn't think twice with this though, he will save this kangaroo and he might mind someone's business here, but he has a very strong hunch that this business here isn't even for the good of the wildlife here. Escape players, Curtis is going to free this kangaroo and he knows this will not be easy, would you like to help him then so he can get this done?
Help To The Kangaroo is another new point-and-click animal rescue escape game made by Games 2 Rule.
Other games by -
Walkthrough video for Help To The Kangaroo