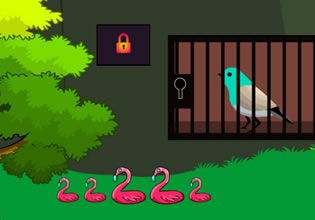 Help To Rescue The Bird
Edmond knows the creatures of the land here and that's why as he moves around the place, nothing really surprises him there. But that day though he is going to find something that will definitely surprise him.
Edmond found inside a random cage there in the forest a neon-blue bird! It was slightly glowing and that certainly caught him by surprise. Was this a rare bird? Clearly it is for he had never seen something like this in the land before or even in his entire life! Well, he is thinking of releasing it now, but he is asking the question who this cage belongs to though and why did it capture something very different? Escape players, Edmond will now be releasing the bird but he is going to do that slowly. Want to help him then so this creature whatever it is exactly can return to the forest uninjured?
Help To Rescue The Bird is a new point-and-click animal escape game developed by Games 2 Live.
Other games by -
Walkthrough video for Help To Rescue The Bird