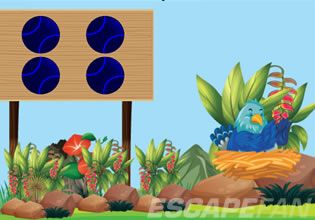 Help To Find Mother Bird's Egg
Elle is now in the forest again wandering around collecting firewood and herbs, she is also on the look-out for the native animals there for there are poachers roaming around placing traps to capture their next victim. That day, she was checking the birds there which she thinks must be monitored for they are rare. As she checked this one blue mother bird in its nest, it seems that she is missing something, something very important.
Her egg was not in her nest anymore! Elle quickly looked around for any signs of it anywhere, she couldn't find it, she immediately thought this could be the work of them poachers. If so, then she needs to fix this for this blue bird here is indeed rare and its offspring is very much important. Escape players, Elle is going to find the unhatched baby of this blue bird, would you like to help as well so that this can be solved quicker?
Help To Find Mother Bird's Egg is a brand new point-and-click animal rescue game from Games 2 Escape.
Other games by -
Walkthrough video for Help To Find Mother Bird's Egg