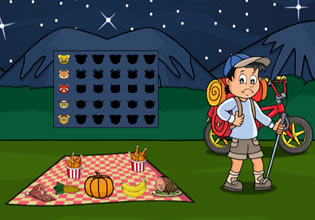 Help The Trekking Boy
Charlie was now under the starlight in the wilderness camping. This is definitely the thing he wanted, for he lives in the city and he had been away from nature for a long time. As he was relaxing there, he was startled that somebody just walked-up to his camp suddenly! It was a boy and he definitely scared the heck out of Charlie. Of course as a good gesture, Charlie invited him to his camp, but the kid just refused and he said he just need a map and he'll be on his way.
Charlie insisted one more time that he can stay in his camp for the night and not push on to dangerous terrain in the darkness there, but the young one was persistent so guess Charlie cannot force him then. But he'll give him a map though for he has an extra. Escape players, you will be playing as Charlie here, find a map and hand it to the boy so he can be on his way then, and also wish him well.
Help The Trekking Boy is a brand new point-and-click item retrieval game from Games 2 Jolly.
Other games by -
Walkthrough video for Help The Trekking Boy