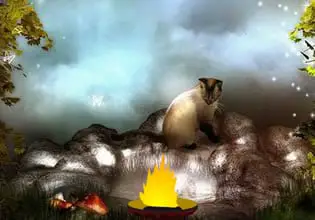 Help The Fantasy Tortoise
This land here is a safe haven for creatures with unnatural abilities and proportions, like this two tortoise here who are best buddies, they are like humans and they both have these these type of vegetation growing on their shells. Those are the least different really, for there are more weird things there in this forest. But as said though, these tortoise are best buddies, but that day there was only one of them in an area at the moment, for the other needs help for it got trapped!
This troubled tortoise is sealed in one of the old forts there which are being taken back by nature, it is old and broken but still it was capable enough to trap something, in this case a tortoise. The buddy who was free is trying his best to free his friend there, but he could not for not only he was already taking the burden of his heavy shelf, he doesn't have thumbs which can manipulate things there. Escape players, you have those thumbs and those skills, so would you like to be the help of the tortoises here so that this friend of the other can be freed?
Help The Fantasy Tortoise is a brand new point-and-click animal rescue escape game released by Big Escape Games.
Other games by -
Walkthrough video for Help The Fantasy Tortoise