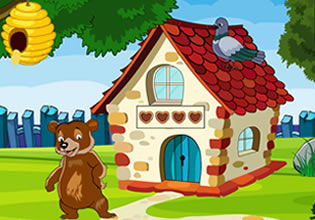 Help The Bubbly Bear
That local bear is back again, and Logan who lives in a simple forest house really is in concern when this creature pops-up, for he might not be able to give something and this wild animal might take the initiative to raid his place of food. But that day Logan said to himself that this is the last time he will be giving hand-outs to this bear, and of course he needs to find it first.
Logan remembered he have some honey which he can give, he thought he might have harvested this honey from the nearby hive prematurely, maybe he can give it to the bear. Escape players, will you help Logan here in retrieving this honey for he had kept it so he can give it to this bear?
Help The Bubbly Bear is the newest point-and-click item retrieval game created by Games 2 Jolly.
Other games by -
Walkthrough video for Help The Bubbly Bear