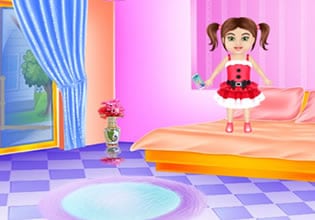 Help Me
David's daughter here is trapped inside their house, well especially in her own room. The main reason for that trouble is their highly automated doors and even though it has a manual mode and it can act as a traditional door, it was mostly built to be opened by a special app in a smartphone. David is now thinking about this, for installing something like this in the house is somewhat of a bad idea, and because of that his daughter is trapped in her room there.
Escape players, David needs help here in rescuing his daughter but because he is on the outside part of the house, he can't really help her inside. You are the only way here now to rescue this girl, or rather get David inside the house. But either way it can only be solved with one solution, and that is to find that phone or any phone in the house which has smart capabilities and unlock the door through that. May you be able to find a smartphone there so that the doors in this place can finally be opened.
Help Me is the newest point-and-click item retrieval rescue escape game from 8b Games and Games 2 Mad.
Other games by -
Walkthrough video for Help Me