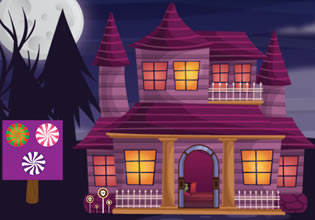 Help Halloween Little Ghost To Rescue Ghost Family
It's Halloween once again and the haunts needs to be out and about scaring people. The family of ghosts in this abandoned house is now getting ready to go around the neighborhood for that's the only time they can, that's not only because of this curse on them, but also they can be mistaken as normal alive people thanks to how they look. But at the moment though something weird is happening, for only one member of the family can go out and go through walls and the rest mysteriously couldn't! Now they are trapped in a room there and couldn't get out.
The only one who can still go around freely was the youngest daughter of the family who was Amber, they have no idea what's happening but she seems to be the only help her family can get here. Okay, Amber is going to need some more help on this as well for her entire ghost family is trapped. Will you be able to find anything that Amber can use to open the door where her family is?
Help Halloween Little Ghost To Rescue Ghost Family is a brand new point-and-click indoor rescue escape game released by Games 2 Escape.
Other games by -
Walkthrough video for Help Halloween Little Ghost To Rescue Ghost Family