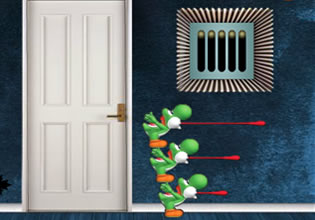 Hatchling Escape
Hatchling Escape is the newest point and click indoor rescue escape game from 8b Games for more dose of fun rescues here for an unusual animal. Have fun!
There was a suburban house which houses a very unusual animal and that is a small dinosaur! The researchers back in the lab have done it now, for they synthesized something and that resulted to the revival of a certain species of dinosaur! Jerome who was one of those researchers, finally had it with his co-researchers probing and studying the animal, he saw it was stressed and that got him pretty concerned until one day, he did something which was out of his job.
Jerome stole the dinosaur and hid it inside a room in his secret house. His fellow researchers are scrambling looking for that dinosaur, and it's good riddance he said to himself, for they are ignoring his suggestions about the animal being stressed and could potentially die, now it can have its life under his care until its maximum lifespan. But that day however something happened and it obviously concerns that little dinosaur! Escape players, care to join in the game here and see if you can solve whatever problem is with the supposedly extinct reptile? Good luck then and enjoy with us daily.
Other games by -
Walkthrough video for Hatchling Escape